"A small team, committed to a cause bigger than themselves, can achieve absolutely anything." – Simon Sinek
CREATIVE BUSINESS CONSULTANTS 

 We help organizations grow in the age of Digital Transformation. Analyzing data and developing creative ideas that solve problems is at the core of what we do. Asking 

Why

 or 

What 

gives us insight. But the real magic begins when we ask 

Why not

? This is what leads to breakthroughs. As a strategic brand consultancy and creative agency, Opus Creative opens new doors.
GREAT

INSTEAD

OF

BIG

 

We have chosen to be great instead of big. Part of our process - and our success - is to work as a

Fluid Agency

, as a core team flanked by proven and experienced creatives, strategists, marketing and production experts of their respective fields.





It allows us at

Opus Creative Group​​​​​​​

as a lean and agile independent design team to focus on our role as architects and strategist to create powerful results for our clients in greater Los Angeles, the US, Europe and beyond. 

More soon or follow us on Twitter​​​​​​​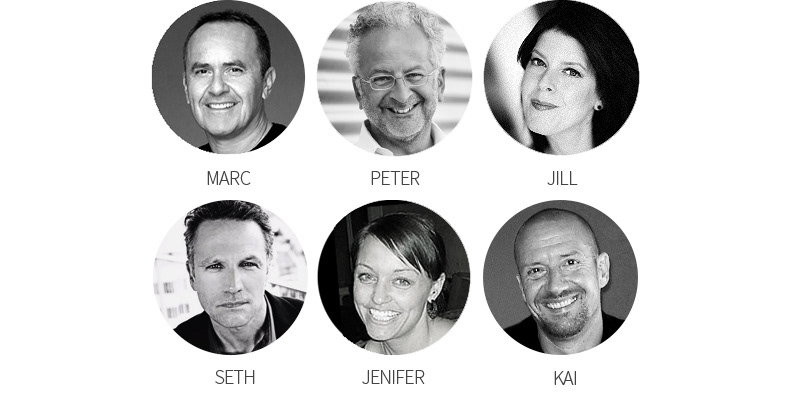 MARC POSCH
, Owner, Creative Director

Swiss-born 
creative director 
Marc Posch has shaped the brands of many companies ranging from tech startups to international organizations. As the founder and driving force behind Opus Creative Group, he is passionate about applying the power of story, deep industry expertise, and visual design to shape identities, uncover purpose, and ignite sustainable growth. His philosophy is best described as: We thrive to be a team whose spirit of creativity and social responsibility invites and inspires people to work with us. Curiosity and a forward-looking attitude are what drives us, not just successes of the past. We create the world we want to live in. 
His office created branding and design concepts and served over 300 technology companies such as Apple Germany and BMW as well as numerous start-ups in the world of European and US commerce.
Based in Los Angeles since 2010, the Opus Creative Group​​​​​​​ (formerly Marc Posch Design) continues to thrive through the collaborative energy of a dedicated team of talents under Marc's leadership.
PETER SCHEER
,

Brand Consulting, Strategy
Peter is our strategic brand consultant, conceptionist, copywriter and marketing campaign/project manager, in addition to his managerial duties for his well known B2B advertising agency A,S,M, in Munich. Peter brings in deep experience in international tech industries e.g. automotive, digital economy (software, hardware, solutions), embedded computing, mechanical engineering, additive manufacturing, building automation, energy, printing technologies and related technical sectors as well as for financial services and reinsurance. Peter is also a an expert for employer branding and recruiting campaigns.
 
With his proven methodology, experience and language skills, he develops mission statements, positionings and selective message management for the customer journey and offline-campaigns. Peter has received over 30 industry marketing awards for advertising campaigns, currently the German Design Award 2019 Special. 
JILL BATTSON
, Strategy, Copywriting
Originally from the U.K., Jill is an award-winning, internationally published interdisciplinary poet and writer. Over the years she has sharpened her pencil to write copy for corporations in Canada and the U.S. as well as successful grant applications for arts nonprofits. Jill has a BA in film production from Ryerson University in Toronto, Canada, and a BA in graphic design from Ware College in Hertfordshire, U.K. 
SETH AVERGON
, Marketing, Research
Seth M. Avergon has over 20 years of experience, and has held key positions at Citizen, DENSO Automotive, Rain Bird, World Tableware, and RSI Home Products. His enthusiasm, leadership and creativity have been the driving force behind dozens of successful product launches and marketing campaigns. 
Seth is an acknowledged expert in both B2B and B2C marketing strategy, and is the recipient of numerous professional accolades, including a Trailblazer Award. He is also a sought-after speaker and editorial source on brand and business strategy. ​
Seth holds a bachelor's degree in Psychology from the University of Southern California, and a master's degree in International Studies from George Washington University with specializations in International Business and International Law.
JENIFER
TRACY
, Art Direction

With more than 10 years in the design industry, Jenifer brings a uniquely well rounded approach to the creative development process. A graduate of California State University of Long Beach's Graphic Design program, Jenifer has proven over and over to be a true print and production expert and always keeping her cool even when facing tight deadlines.

Jenifer's work has been recognized as smart, effective and inspired and has won multiple awards. Having worked with a diverse range of clients from Brazilian Blowout to Mary J. Blige, Jenifer has a relentless desire to create quality work for each and every project she dives into.
KAI BOWDEN
, IT, Tech Support
As a trained engineer, Kai is the technical backbone of our team and always available for questions regarding server setup and maintenance. He helps us and our clients with consulting and troubleshooting and makes sure that all systems run smoothly.
Marc Posch: Technology is in my DNA
​​​​​​​
Green tech, information technology, new gadgets, Big Data... name it, I like it. I grew up in Germany in a small town near Stuttgart. It's a region saturated with tech and manufacturing. And with the Porsche Development Center in our backyard, and Mercedes and its partners pretty much everywhere, it was hard not to be influenced by tech and manufacturing. 
Later when I moved to Munich, a city with BMW as the driving engine of its economy, you couldn't find a design firm or advertising agency that didn't work for the automobile industry or its suppliers. This is where my roots are. 
Now add a father, a planning engineer, and consultant for the World Bank, who would oversee the construction of power plants and desalination projects in developing countries, from the Middle East all the way to China, and the fascination for innovation was pretty much baked into my DNA. 
And it is still something that gets me going every day: being at the forefront of innovation, engaging with people who can dream up tomorrow, who search for solutions to the problems our world is facing, people who don't just ask "why", but also "why not?" 
"My role as a brand consultant and creative is to find insights as to how and where creative thinking can disrupt a status quo and solve a problem. I see it as my job to deliver a perspective of not just aesthetics, but purpose and impact, too. Outstanding design - in tandem with a compelling and genuine brand story - are important tools, if not the most important ones to connect with customers in today's economy." – Marc Posch
​​​​​​​